What could KiB do for you?
September 2019
Niamh volunteered with us while she was studying Music at the University of Leeds. She ran music sessions at two NHS elderly rehabilitation units in the city, singing specially-selected songs to engage the patients and prompt reminiscence. She's now working full time as a music therapist. Here, she sums up what the experience did for her.
"I gained so much from every single session. My confidence as a performer grew quickly, as did my ability to talk to people from other generations. I learnt so much about the experiences of older people, and left every visit having heard at least one lovely story about a patient's life, fuelled by the old songs we would sing and talk about.
These connections made me feel part of the community, which is so important during the early years at university, when you can feel lonely and adrift.
Volunteering with KiB also filtered down to help me in my degree, my university experience, and my post-graduate job as a music therapist (which KiB wrote me a reference for!)
For example, witnessing non-verbal elderly patients with severe dementia sing with me (and sometimes for me) was beautiful and inspired my Masters research: assessing the value and best practices of community music for older adults.
Working with KiB affirmed my career aspiration of training to be a music therapist. I am eternally grateful for the opportunities I've had, and I thoroughly recommend getting involved!"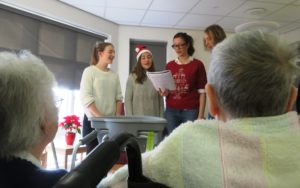 Niamh (on left of picture) and friends help make Christmas special.