A Very Arty New Year!
January 2022
Before Christmas, we launched a children's art project to help Warwick Hospital patients feel connected to the outside world during their stay. As the pictures were set to decorate Castle Ward, the challenge was to create a piece of artwork on the theme of 'castles'.
"There's growing evidence that having access to inspirational art can support the mental and physical wellbeing of older patients," says Caty Oates, KiB Project Director in Warwickshire. "And it's lovely for patients to know that children in their community are thinking about them and want to do something to help."
Hundreds of children entered. When Warwick Castle heard about the idea, they stepped in and offered free tickets to the winners. One lucky winner's picture will be turned into a notelet to be sold at the castle; all proceeds to go to KiB.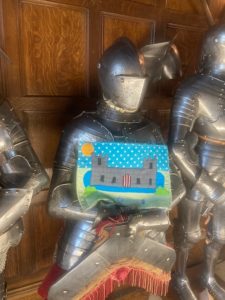 Left: a  Knight at Warwick castle is holding artwork by Matilda Long, North Leamington School
Below: Puroshini Pather and Carla Lea with pictures from Oscar and Maisie Hotten from Aylesford School