KiB's Comedy Drama Clubs Take Off!
August 2023
More than 60 older people living in care have joined our comedy clubs, and scores of students are getting involved. Almost anyone can to take part in our plays, from older people with memory challenges (we never come off script) to those with mobility issues (there's no physical action involved: our plays give new meaning to the phrase 'armchair theatre').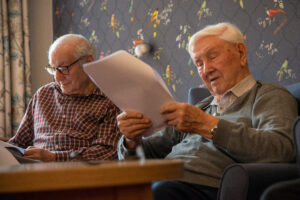 We buy comedy scripts and skits and rewrite them (with the playwright's permission) so the drama works as a 'read' rather than a performance – this mainly means writing a new part of Narrator to explain all the action and stage directions.
All our scripts are set in the 20th century, so the stories feel comfortable and relatable. The humour has a distinct flavour of the 1960s – 80s (the Carry On films /The Two Ronnies/ Terry & June/ Are You Being Served?) with a dash of the Ealing Comedies mixed in.
Yvonne Nicholson, Activity Coordinator at Yew Tree in Leeds says: "Since you and the students have been coming to visit I feel that you have all made a huge impact on the life of the residents who take part in the comedy drama groups, and those who turn up to watch. Doing comedy performances is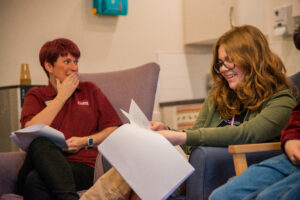 not something any of our residents would have even considered doing before, but collectively you have given them the confidence to participate as a group. During the sessions, we laugh continuously – it's done us all the power of good!  I hope we  can extend this session further; get more residents involved, and hopefully get them to try their hand at writing their own plays!"