How to start a conversation in November
November 2019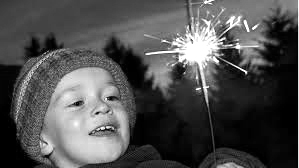 Bonfire Night
Everyone has a favourite firework: Catherine Wheels, Roman Candles or Cascades. Children of the 50s and 60s remember how hard it was to light a sparkler – and keep it going for more than a couple of seconds. Still, they had the pleasure of building and lighting their own bonfires and buying their own fireworks. Bonfire night was properly dangerous back then…
 Diwali
The Festival of Lights is also marked by amazing fireworks, but this Hindu and Sheik feast-day is less about loud bangs and more about filling the sky with beautiful lights and brilliant colours. Has anyone been to a Diwali celebration?
Autumn Leaves
Pressing leaves into books was very popular in the middle of last century (there wasn't much on the TV!) and children often created autumn collages with the results.
 Winter Nights
In the days before central heating, ice would form inside the windows as the cold nights drew in. Who remembers the power cuts of the 1970s, when the electricity would go out without warning several times a week?
Remembrance Day
If you are visiting on Remembrance Day, be sensitive to the fact that some older people may become quite emotional during the two-minute silence, as they remember loved ones lost in a war. Sitting quietly together holding hands can be very comforting.